Aptosol Apto-Spot Pro 12%
Aptosol Apto-Spot Pro 12% is a skin exercise peeling system. It is a powerful antioxidant therapy that aids your skin in exfoliating. Regular usage will gradually turn back time and bring your skin life cycle nearer to the youthful 28 days.
Effective for melasma, freckles and other skin pigmentation.
This product contains retinol and may NOT suitable for pregnant women.
Customer Reviews
10/10/2022
Nurul S.

Singapore
I recommend this product
APTO-SPOT on scars
I hesitated to use this on my face because I have never attempted this type of product before so instead, I use it on my scars on my two arms just to see what sort of effect I would experience when I applied it. Both scars on my arms was from friction at the gym. The first time it was peeled off, the skin was red, I also noticed there was some itchiness prior to the skin peeling off. Applying Cellonic Booster seemed to help ease that itchiness. I didn't keep a proper record of my usage and I had given my skin some "rest" time before attempting again. The end result was quite a surprise to me, as the scars fade much faster. I would certainly try this again on my other old scars.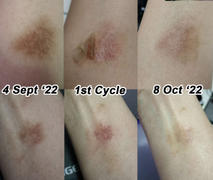 09/10/2022
Jenny T.

Singapore
I recommend this product
POWERFUL SKIN PEELING CREAM
I had laser for my skin tag mole many years back at a aesthetic clinic but it left a dark burn spot on my cheek. I tried many whitening creams and MTS to lighten the spot but it doesn't help much to lighten. I am glad that Leah has found this Opto Spot Cream. After 2 to 3 applications of peelings the burn spot has lightened. During the last live streaming Lead and Dave shared that we are able to apply the Opto Spot Cream on whole face for the skin to peel and achieve the glow (kwang) like Leah. I did as what was shared, to apply more oxytical after peeling. I can see a significant improvement in the appearance of my skin tone glow and texture improvement in as little as one peel treatment. I highly recommend this product to achieve your glowy skin.
09/10/2022
Selene l.

Singapore
I recommend this product
Superb product
I have pigmentations on my cheeks,nose and also dull skin tone. just after 1 time of using aptosol, it has so visibly lightened the pigmentations and my skin is so glowy and smooth after the peeling process. Really enjoy the peeling process of changing new skin.
09/10/2022
Serene

Singapore
I recommend this product
Glad I gave it a try, no regrets!
It is a leap of faith for me to finally decided to Aptosol Aptosol-Spot due to the downtime after application, but after the change I see in my skin, I am so glad I tried it and immediately apply it the 2nd time to start the 2nd cycle of peeling. The concerns which I would like to treat is mainly milia seeds under the eyes, 2 tiny pigmentation and a few light acne marks on the cheeks. Hence, I applied it a thin layer all over my face and thicker layer on those problem areas. On day 1-2, there is some redness on the whole face and the parts which thicker area were applied will be more red. Thankfully the redness subsided as peeling begins and after day 5, all redness is almost completely gone as peeling ended. The peeling might looks scary, my skin do feel slightly raw before it heals, but there is almost no pain. I continue to apply the derma cosmetic ampoules and rebalancing soothing gel to keep my skin hydrated to help with the healing. The morning after I apply Aptosol the 2nd time, my skin was glowing after washing even without applying anything. I hope that with a few more application, the pigmentation and milia will soon surface and gets peeled off. I am really grateful to Unnie-K for supporting my journey and answering my questions and concerns very patiently when I message them. They are so patient and assuring and gave me the confidence to continue using this product. The videos and photos of Leah and Dave using this product also gave me the assurance that all will be fine and that I should just trust the process. I highly recommend this product to those who would like to have glowy skin and problems such as mila and pigmentation. Take the leap of faith and trust the process, Unnie-K will be there to guide and support you!
09/10/2022
Allison L.

Singapore
I recommend this product
Amazing Apto
My first product from Unnie-K Shop. This is the best skin peeling system that helps with my pigmentation. Certainly value for money. I'm amazed that seller uses the products provides assuring results to customers. Trusted and definitely sees satisfying results on my skin.