GeneDNA Quadruple Hydro Booster
Quadruple Hydro Booster is a product from GeneDNA Medical Care System. This high-grade concentrated serum builds up moisture storage deep in your skin with 8 different molecular size hyaluronic acid ingredients. It provides intense moisture to your skin, making it soft and improving elasticity.
Contains 5 x 12ml vials.
Customer Reviews
09/10/2022
JasLin

Singapore
I recommend this product
Very Hydrating QHB
This is really omo omo good for hydration. My skin at times feel dry, pink flush at certain area, could be not enough of HA and frequent air-conditioning. With this alone applying on face, I felt it helps with the boosting of hydrating a lot as give the lock of moisture and look dewy glow when woke up. My skin look even smoother and healthier, my face don't feel that dry comparing before. When it was intro that can mix with CB stem cell, I tried as it helped to skip 1 step of applying another on face. But my preference still like the feeling with applying the concentrated serum alone to pat into the skin to feel more satisfying with the absorption. For those have not try out, really can give a go as unnie k shop item really worth the price for derma home skincare.
09/10/2022
Adeline

Singapore
I recommend this product
Enjoying it!
Was initially hesitant as the vials are small, but decided to give it a try. Also saw previously that Leah had managed to convince the manufacturer to make the quantity larger and remove bad ingredients so decided to trust this product even more. Have tried it for a week and my skin has been less dry - if i squeeze out black heads (i know i should not!), my nose would usually peel. Put QHB to the test with squeezing prior to using and no peeling skin in the days to come!
09/10/2022
Michelle N.

Singapore
I recommend this product
Hydrating
Good value with the extra large ampoules! Added it to my other derma cosmetics and my skin felt soooo hydrated the next day! My skin usually feels dry after all the aircon use but this really kept my skin so supple! I love it!
09/10/2022
Ruth L.

Singapore
I recommend this product
QHB
Very amazed by the products Leah has recommended esp this QHB. Been through alot of derms, lasers, peels, OTC products and found all of them has reached a plateau after prolonged use. Kind of demoralised until I saw Unnie's FB live. I was kind of skeptical but decided to give it a shot. I was very amazed by the products that I applied. In just one month I saw magic! Pores were refined and bumps are slowly disappearing! I even got the hydrating glow! I shall continue to use the products and I believe my skin is on the road to recovery. Thank you Leah once again! Sarangheyo!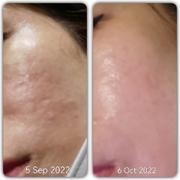 09/10/2022
S L.

Singapore
I recommend this product
Thirst quenching Hydro Booster
Very thirst quenching for my skin. immediate absorbtion when apply to skin. no sticky or oily effect. can feel skin is more supple and hydrated after applying. always include this booster in my daily skincare routine.