Oxytical Droxyd Kit is a professional skin solution chosen by experts. It is an efficient ONE-STOP core solution of Oxytical for solving the fundamental problem of skin stress. It provides a lasting effect to the skin with scientifically differentiated care, both for day and night.
Droxyd Kit contains:
1 x Oxytical signature Vial Kit 3.98 ampoule
1 x CP 5.9 Finition Cream
1 x AP 1.1 Reguard Cream
3 x sheets of pH Revive 28 masks
Detailed Description
Review
Customer Reviews
Write a Review
Ask a Question
07/11/2021
Jennifer

Singapore
I recommend this product
See the difference in just 10 days
I started using DroxyD kit on 27 October and I am absolutely convinced of it's benefits. In just 10 days, you can see from the unedited photos that my skin clarity improved and pores minimized plus I love that no oily skin when I wake up in the morning or halfway through my day. When I went for my usual facial on 5 November, my therapist was surprised that there's a natural radiance to my skin even though it's been 6 weeks since I last saw her … guess I can rely more on the DroxyD kit and no need facial as often! One more plus… a big plus… when I go out I realized I only need to dust on some loose powder… no need to put primer or foundation. All these benefits and differences just within 10 days wish I had discovered this amazing product earlier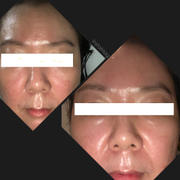 01/11/2021
Jerrie

Singapore
07/10/2021
Lilis

Singapore
I recommend this product
The miracle set
My journey with Unnie-K Shop started with Oxytical. I was excited when Leah & Dave announced they will bring in Droxyd Kit, just in time for me to replenish my stock and try the other 3 new additions. I have no doubts at all cos I can definitely see results with Oxytical ampoules. I've tried on the Revive mask, a bit stinging sensation, so my skin is definitely not in tip top condition yet, but Reguard cream soothes it well. My regular morning routine is now Oxytical ampoule + Finition cream. This is really a miracle set. I can definitely see visible results, pores are getting smaller, post-acne scars are reduced. Some "guang" is visible, hopefully more soon :D
I recommend this product
One of the beloved
It's a must have when I stopped using for any 2 months. Big difference.
18/03/2022
Lisa Q.

Singapore
I recommend this product
Fantastic set with everything you need
Non clogging clean derma skincare set. Every item here is super effective without the frills of typical off-the-shelf skincare. You're paying for results and not funding unnecessary marketing or nonessential packaging. The creams are a brilliant addition to using an entire system all in one place.
Detailed Description
Review