Petitra Rejuvenation Expert Spicule Serum/Cream (2 x 10g)
Petitra Rejuvenation Expert Spicule contains high-purity spicule, PDRN (salmon DNA), human stem cell culture medium, Super Centella, Super EGF and Acetyl Hexapeptide-8. The spicule keeps your skin elastic by continuously microstimulating the cells.
The serum version contains 30,000ppm high purity spicule, 1,000ppm PDRN and 10,000ppm stem cell culture medium.
The cream version contains 20,000ppm high purity spicule, 1,000ppm PDRN and 5,000ppm stem cell culture medium.
Please start with the cream if you are a beginner to microneedling treatments. Once you are used to it, you may upgrade to the more concentrated serum version.
Good for elasticity, whitening and wrinkles. 
Customer Reviews
09/10/2022
Aegean R.

Singapore
I recommend this product
SPICULE(AR) Spicule(ing) Changes!
When Leah and Dave introduced this SPICULE product, I was so ecstatic that this is a dream product that I MUST HAVE! (I have a very low pain tolerance level, and hence MTS was evidently not for me.) I bought it without a second thought! I just hit the golden 5-Zero mark, and I unquestionably need to start sustaining my complexion! I started using Petitra Rejuvenation Expert Spicule Cream on the 4 October evening (arrived on the 4 October afternoon). My skin condition is rather dry, and rough, and there are signs of decolourisation. I like the tingling sensation that it has on my skin after application. The feeling is like having "micro-needles" lancing on your skin's surface. It is painless! My hubby noticed the evident transformation on my skin on the third application of Spicule! He was amazed by the efficacies of this 10g tube! This cream has made noticeable changes to my frown lines, and to my eye areas! The colourisation has demonstrably lightened by at least 3 tones (not e! I will be using this on my hubby in the next round, as I want this SPICULE(AR) result and sensation feeling on me first! This is a now MUST HAVE in my skin care collections from UNNIE-K! ps: Leah and Dave please do NOT discontinue this SPICULE!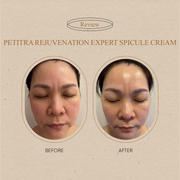 02/10/2023
JY

Singapore
I recommend this product
Easy to use
Very interesting tingling sensation, good for lazy days when I don't have time for mts or when traveling.
11/07/2023
Emily K.

Singapore
Highly Recommended
Use it on alternative nights as recommended by Leah for sensitive skin. It seems to have improved my skin barrier by reducing irritation.
14/06/2023
Evelyn F.

Singapore
Good alternative to MTS
This product was surprisingly easy to use and does not cause my skin to outbreak compared to MTS, will try the serum version next time
26/03/2023
Ling l.

Singapore
I recommend this product
Worth trying
I am in my forties with occasional hormonal acne and some wrinkles on forehead and laugh lines. Serum is very good in diminishing acne that has appeared. Highly recommend to try. This is my second box.