Essello Clear-off Cleansing Oil (500ml)
Essello Clear-off Cleansing Oil consists of 88% vegetable oil together with Dogo Hot Spring water to effectively remove makeup as well as blackhead / sebum and clean up dead skin cells. It has cleansing power deep into the pores, provides intensive care for your skin.
Suitable for all skin types. Effective to help removal and prevention of blackheads.
Customer Reviews
100
reviewers would recommend this product
Write a Review
23/02/2023
Sharon T.

Singapore
I recommend this product
Good cleansing oil
Good cleansing oil. Double cleansing works wonders. Good for make up removal too!
11/10/2022
Shameen Z.

Singapore
I recommend this product
Ditched a good cleansing oil for an even better one!
Haha.. The title tells it all! Before that, I was using Huangjisoo Cleansing Oil and it works well on my skin but once I got hold of Essello Clear-Off Cleansing Oil, I was so eager to try it out (even before finish using my Huangjisoo Oil Cleanser). I was totally sold! Essello is much light weight, has a minty nice scent and is much easier to spread on my face. It felt so refreshing to use. I don't think people will use the word "refreshing" to describe a cleansing oil but it really has a therapeutic feel when you are using it. It also removes eye makeup, eyeliner, mascaras, foundation and lip tints easily. 1 pump of Essello clear-off cleansing oil can remove everything on your face, so convenient! That really explains why I find it hard to go back to my 1/3 bottle unfinished bottle of Huangjisoo Oil Cleanser (I'm sorry! Haha...) Now, its upgraded to 200ml more, making it more worth it! I will definitely be back to grab the bigger version soon!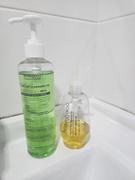 09/10/2022
S L.

Singapore
I recommend this product
fuss free make up remover
My favourite cleansing oil thus far, no need to use any cotton pads , just straight to face and cleanse away. love the pine-scent too! doesn't dry skin up and leaves skin clean and fresh.
09/10/2022
Jane

Singapore
I recommend this product
A must get !A must have ! Don't wait !
Fantastic cleansing oil . A must have for everyone to use when removing their makeup or even their sun screen products on face . Feels and smells so refreshing and face skin feels clean after use .Would highly recommend this .
06/08/2022
Adele H.

Singapore
Still testing in progress
Just started using this cleansing oil Will monitor for awhile to see its effects. Overall, feels good and clean!