The MTS Derma Roller 0.5mm is a safe, high-quality roller for home use. It comes with 540 titanium alloy needles and is individually packed and sealed for hygiene purpose. MTS is a versatile treatment alternative applied to a wide range of skin conditions including depressed acne scarring, sun-damaged skin, uneven skin texture, pigmentation, wrinkles, and smile lines and other blemishes. Use this roller together with our derma cosmetic range ampoule for the best result!
Derma rollers are meant for single use only! Please do not reuse!
Customer Reviews
01/10/2023
Magdelene

Hong Kong SAR China
I recommend this product
Amazing roller that repair
This is an amazing roller that brings youth back! I preferred this then the automated pen.
17/10/2021
Lilis

Singapore
I recommend this product
No pain, no gain :)
I've just completed my MTS routine tonight, first time switching to 0.50mm after considerably comfortable with past few sessions with 0.25mm. The pain is still bearable though I experienced auto-teary when rolling slightly harder on my pigmentation areas well, no pain, no gains… I always pair my mts with PDRN & Oxytical. Of course not to forget the modelling mask which definitely cooled it down and no more redness soon after.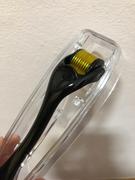 03/06/2021
Sharon

Singapore
I recommend this product
MTS
Works very well with dermacosmetics, ie EGF and stemcell. Helps with absorption greatly. Using 0.5mm gently doesnt leave the skin red after the modeling pack.